Join us for a 4 week Expressive Art circle (one Moon Cycle)
where we'll do magickal crafts and work on our "Book of Shadows"…
aka our Book of mystical art work, prayers and visions.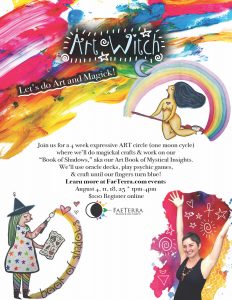 ….🌙
Have you ever made a vision board or crafted an altar tool to help you manifest your desires?
Well, the true definition of Witch means "to will." Or to make manifest.
In our Art Witch Circle,
We use artistic media to help us get clear on what we want…
then witness each other to create shifts in consciousness & make our dreams come true.
"A Dream is a WISH your HEART makes….
And then we do something about it! Because we are Witches!"
We will also use Oracle Decks, Play Psychic Games, and… yes… Craft until our fingers turn blue.
~~~⭐
In this art witch circle series we're going to be making our "Book of Shadows."
A Book of Shadows is an art journal where we record our visions, our recipes, our tools for transformation, and all our notes about what makes us come ALIVE.
Check out Molly Robert's amazing "Book of Shadows" (aka Grimoire or Magickal Art Journal)
to see what a Book of Shadows CAN look like ======>
A Flip through my Rainbow Grimoire
(P.S. Your's can look like whatever you want it to look like! This is YOUR sacred book. )
During our 4 weeks,
We'll craft the covers of our book of shadows, then we'll fill in our first few pages with MAGICKAL activities that help us reflect on our inner selves, connect deeper with nature, tap into our psychic gifts and guide us to manifest what we want in our life.
JOIN US!
& Learn more about Art Witching at Art Witch
We'll be at my home in Kula, Hawaii.
Sundays August 4th, 11th, 18th, 25th from 1-4pm
$100 * RSVP online at Faeterra.com Events
Space is limited to 7 Art Witches.