Let's

paint

and

sing

together!


Scroll down for info!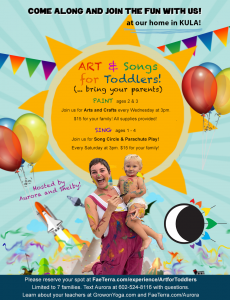 PAINT! : Ages 2 & 3 ~ Every Wednesday @ 3pm
SING! : Ages 1 – 4 ~ Every Saturday @ 3pm

Classes are scheduled for 1 hour, but with Toddlers we FLOW!
If Arts & Crafts end early, we may sing and dance to fill up the time.
After Arts and Crafts you are welcome to use our outdoor shower to wash up.
And, most days, you are welcome to stay after class and let the kids play.
PLEASE RSVP to save your spot!
Classes are limited to 7 families.
RSVP and pay below, on this event page.
If you need to pay in person or want to RSVP a different way, contact us. 
Location: FaeTerra House, Haleakala Hwy, Kula
Across the street from Kula Lodge!
Text Aurora at 602-524-8116 if you need support.
WE ARE EXCITED TO PAINT & SING WITH YOU!!
LEARN ABOUT YOUR TEACHERS!
Shelby Holmes is a Kids Yoga Teacher and Song Circle Leader!
Visit her website at www.growonyoga.com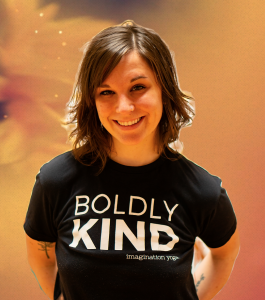 Aurora FaeTerra is an artist and mama to a crafty 21 month old!
Read her bio at faeterra.com/aurora