This is a card from FaeTerra Oracle Deck.
Meaning: You are in Love!
Description Below:
~~~~~~~~~~~~~~~~~~~~~~~~~~~~~~~~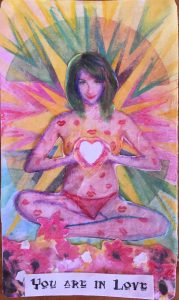 If you listen closely, everything is making LOVE ☥
The birds and the bees, the flowers and the trees.
During SEX people merge in LOVE.
In ORGASM they divide in LIGHT.
The sun itself is orgasmically merging and dividing…..
Reproducing itself,
just as two people do when they make a child.
I like to meditate on the ORGASMIC impulse that runs through all things.
It makes me feel in love with life itself.
I want to walk this Earth as if I've been kissed a thousand times.
I want to attract a beloved through a magnetic resonance,
as if my pheromones is a love potion and my body is calling him home.
~~~~~~~~~~~~~~~~~~~~~~~~~~~
Meaning:
When you pull this card, you are in Love!
But what does it mean to be in love?
Love is the strong magnetic attraction you feel for another.
Many spiritual paths guide us to feel love through transpersonal states.
This is the expansive kind of love that breaks us out of the ego,
and reminds us that we are "one with all."
However, for most people LOVE is an embodied experience.
It's a process that helps us understand our ego,
including we are as an individual, what we value, and what turns us on.
We are usually attracted to mirrors.
These people unlock parts of ourselves that are otherwise hidden away.
This process furthers our growth journey.
~~~
Love is described throughout time in different ways.
The Greek word Eros, represents erotic love.
We know it as the yearning to celebrate body pleasure.
Eros is another name for the Greek god Cupid.
And in Hinduism, he is called Kama.
Both Kama and Cupid shoot their bows at individuals destined to connect with each other.
Kama is associated with the word "karma."
The laws of Karma remind us that there is a meaning behind connections.
Souls may be drawn to each other because of a previous experiences associated with reincarnation.
And so in the Hindu myth,
Kama shoots his arrows of love at people, in alignment with karma, to guide them to resolve their unfinished business.
This dynamic often plays out today through love.
Two people are drawn to each other to work something out.
~~~
Love's meaning grows when marriage is involved.
If you have pulled the "You are a Wife" card,
it may indicate that a fuller understanding of love is coming for you.
This is the kind of love that develops when you choose to go on life's journey with someone. Together you unravel and transform and refine yourselves into who you will become.
~~~
Whatever form of love you are in,
Remember that love's strong magnetism works as a mirror,
and it will help you become your truest you.
Besides that!
Celebrate all the feel good chemicals!!
When you feel in love, the whole world responds to your heart's frequency.
Enjoy your friendships today and shower the one you love with a thousand kisses!