This is a card from FaeTerra Oracle Deck.
Meaning: You are in Love!
Description Below:
~~~~~~~~~~~~~~~~~~~~~~~~~~~~~~~~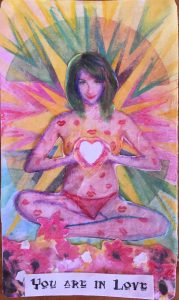 If you listen closely, everything is making LOVE ☥
The birds and the bees, the flowers and the trees.
During SEX people merge in LOVE.
In ORGASM they divide in LIGHT.
The sun itself is orgasmically merging and dividing…..
Reproducing itself,
just as two people do when they make a child.
I like to meditate on the ORGASMIC impulse that runs through all things.
It makes me feel in love with life itself.
I want to walk this Earth as if I've been kissed a thousand times.
I want to attract a beloved through a magnetic resonance,
as if my pheromones is a love potion and my body is calling him home.
~~~~~~~~~~~~~~~~~~~~~~~~~~~
Meaning:
When you pull this card, you are in Love!
But what does it mean to be in love?
Love is the magnetic attraction you feel for another.
Unlike transpersonal states that remind us that we are LIGHT, and "one with all."
Feeling "in love with someone" is an embodied state,
that shows us who we are as an individual.
Often, we are attracted to a person who is a mirror for us.
Being with him or her, unlocks parts of ourselves that have been hidden away.
Our soul is magnetized to others to learn lessons and to grow.
These connections may be karmic or are "meant to be."
~
Is there someone in your life that you feel in love with?
Feel this love deeply! It is a blessing!
Not every person you fall in love with will end as a fairy tale,
but every person you feel in love with will help you become the truest you.
Celebrate that your heart is full!
Remember that when you feel in love,
the whole world responds to your heart's frequency.
Enjoy your friendships today and shower the one you love with a thousand kisses.