** The Mother- Whore **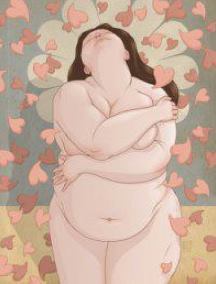 And there she was, dancing.
Her voluptuous body bouncing!
To me,
each one of her curves looked like rolling hills,
her breasts were like mountains & the folds in her skin, caves.
She was laughing!
And she swayed her naked body~
Showing me that she is truly in love with her own physicality.
She has no shame for her sensuality.
Of course she's a whore.
If you mean holy and whole and in devotion to pleasure~
as her birth rite.
She must also be a mother.
I mean,
how can someone be so connected to creation,
and not want to create life?
She's built with those birthing hips.
And I wonder if her body's weight roots her so deep down into the Earth, ~
that it causes her whole body to blossom open in labor.
It must be amazing to witness GAIA give birth.
This type of vibrancy comes from a lifetime of trials.
I can see it in her stretch marks and the bags under her eyes.
They look like INITIATION MARKS.
So as she dances,
I glance at her feet to see if there are roots.
She definitely has branches!
There are flowers blossoming from her soul.
"Mother" ~
My heart calls out to her.
I'm so glad you are here.