Dear Flagstaff Family!
On December 3rd from 12 -2:30pm we are offering the Zegg Forum process to our community!
Debby Sugarman is our visiting Facilitator.
Please watch this youtube video about the Forum process:

ZEGG Forum is a community building, self expression practice! It's a unique process where community members can deepen relationships and promote transparency with each other.
Forum is used by the Network for New Culture and other conscious communities to strengthen community bonds and to create depth in friendships.
Debby will offer an introduction to this powerful and profound process!  We will begin with games and exercises to strengthen the community field and build interpersonal connections.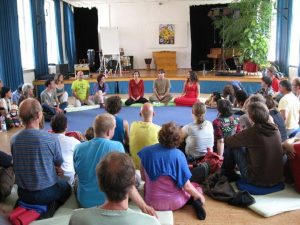 Forum is traditionally "run by the community, for the community."
Facilitators are the "midwives" of the forum process who support (if needed) the presenter's experience.
After the Forum, Debby will stay for an optional half hour conversation for people who are interested in learning to be facilitators.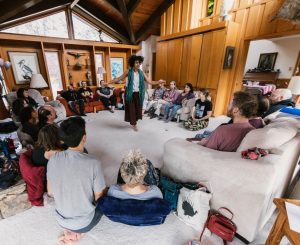 We will be meeting at the FaeTerra House from 12 – 2:30pm.
Debby is requesting a $10-$20 donation. Though no one will be refused for lack of funds.
Due to COVID there is a limited number of seats available. The house has a vaulted ceiling, air purifiers and the chairs will be spaced out.
PLEASE RSVP to [email protected]
~~~~
MORE About Forum:
Forum was created at ZEGG, an intentional community in Germany, and its sister communities as a way of promoting transparency and mutual understanding among community members.  ZEGG members found that decision-making meetings often got derailed because of emotional conflicts and undercurrents that were not known to or understood by all.  In Forum, each individual's experience could be seen and understood, leading to greater empathy and creativity in the community.
The goal of Forum is to reveal what is alive but not known to all.  The community sits in a circle, forming a stage for one person at a time to stand and show what is true for them.  Facilitators may assist the presenter to reveal themselves more deeply.  Afterward, community members may offer reflections, or mirrors, on what they saw.
One of the gifts of ZEGG Forum is that it provides a space to appreciate every perspective without taking it on as "truth." Every voice has its own poignancy, its own wisdom, its own truth, that does not negate the wisdom and truth of other perspectives. Allowing all voices to surface and be known can lead to a profound and unexpected integration within a community.
For more information, see https://www.zegg-forum.org/en/
~~~
About Debby Sugarman
www.debbysugarman.org
Debby is a skilled meeting facilitator, mediator and transformational coach. She is dedicated to approaches that integrate the wisdom of mind, heart and spirit to help groups and individuals navigate through stuck places and relational challenges. She is passionate about teaching and sharing skills to help people skillfully manage difficult emotions, communicate needs and desires with clarity, and navigate difficult conversations.
~~~
Details: ONE MORE TIME!
Date: December 3rd
TIME: 12pm – 2:30pm with an optional additional half hour debrief if you want to be a facilitator.
Donation: $10-$20. No one refused for lack of funds.
LOCATION: FAETERRA House: 2363 S. Rocking Horse Lane Flagstaff, AZ
Note: this event is being hosted at a private residence.