Dear Friends,
On Christmas Eve, you are invited to a family friendly Yuletide Dinner & BonFire.
Please bring something special to share for a potluck dinner,
and then we will be crafting our Yule Logs together!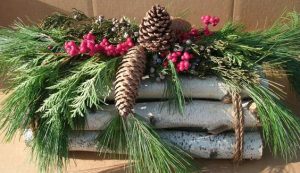 Earth based religions love to include a Bon Fire on their holy days!
The history of the yule log goes back to Norse and Celtic traditions.
The community gathers by the fire to warm our hearts during the coldest time of year.
CRAFTS
You will be decorating your Yule Log as a family with natural supplies you've gathered.
You will also be invited to write notes on pieces of paper, and slip them into your log.
These notes may be things you want to burn and let go of, as we enter the new year.
Or it may be things you want to illuminate and bring into the new year.
You are welcome to carve symbols into your log. Or even nail supplies into your log.
Let your creativity guide you!
When the logs are burning (children willing!)
we'll share what was written on our logs, and anything else thats on our hearts and minds.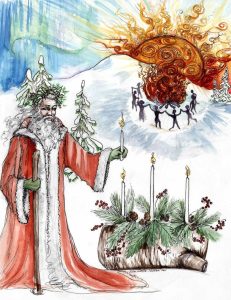 What to Bring: 
In the spirit of our Neo-Pagan ways,
We will honor Christmas and New Years in our Yule Bonfire celebration.
1. Since this is Christmas Eve, we invite you to bring something delicious to our dinner.
It will be a casual dinner, we may even be eating and crafting at the same time!
But its nice to bring food thats a little more special than usual.
2. We will supply your log, but please bring your own decorating materials such as:
flowers, twine, non-toxic ribbon, pine needles, berries, pine cones,
and whatever inspires you that can be tied to the log.
If you bring extra beautiful flowers, we will share the abundance!
You may want to bring some nails and a hammer, if you'd like to hammer materials into your log.
HAVE A BLESSED HOLY DAY SEASON! And Happy YuleTide!
RSVP BELOW