Dearest Wise & WiLD sisters,
Something has been missing.
Something raw. Something real.
And something we've been told we don't need.
It's PLEASURE!
Deeply Felt, PRIMAL, Pleasure.
~
Pleasure coven is our space for us to UNTAME ourselves and explore the wilderness of our own bodies!
We all need it!
But in this society we have to hide so much.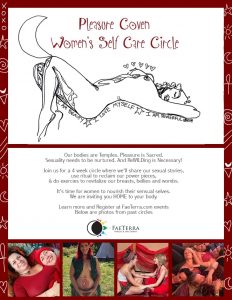 ~★
This event takes place in the safety of our womb-like bell tent, in the beauty of Upper Kula.
We call this group "Pleasure Coven,"
because a coven is a gathering of wise women,
who meet in ritual space to remember the mystery and to reclaim our body power.
At our gathering,
we will begin with sharing circle, and then we'll be guided into activities that help us cultivate our sexual energy.
In order to unleash our sexual energy currents, we also need to let go of shame.
Much of this release comes from sharing our stories, and giving them to the fire.
Then we may do taoist breast massage, or we may be toning and undulating our hips…
we may be dancing  with our own sexual life force.
Remember-
The feminine isn't formulaic.
It's intuitive and receptive.
We'll follow our own emotionality.
Your expression is welcome.
You may use ritual tools such as yoni eggs,
and you may wear your inspiring adornments.
We have sarongs you may change into ~
so that you may leave the outside world behind
and come into our space of body positivity.
~★
To create this special circle,
We are looking for specific women:
YOU! <3
The Tantric priestesses.
The Daughters of Whore-US (Horus)
Sisters of the Moon
The Dark Goddess
The WiLD and FREE
This event is only happening once-
But! if it goes well,
we'll host similar events regularly.
~★
ADDRESS
DATE & TIME