Happy Full Moon!
Every Full Moon at FaeTerra ~ from 7pm to 9pm ~
we invite couples to come together to celebrate each other.
Our first circle is Friday, August 16th
The Full Moon reflects the FULLness of life.
We honor fertility, abundance, and the juiciness in our relationships.
Full Moon Intimacy Circle,
could also be called a sensation "puja." Or an adoration ceremony.
Or a Sensory Awakening Ritual… (we love that name!)
Everyone invited is in a committed partnership, preferably for over a year. 
When you arrive,
You will bring your nests (pillows, blankets, altar objects)
And we will hold the space for you and your partner
to dive deep into your intimacy, explore your senses and worship each other.
This space is really about you and your beloved.
The only community sharing is at the beginning, simply to introduce ourselves to each other.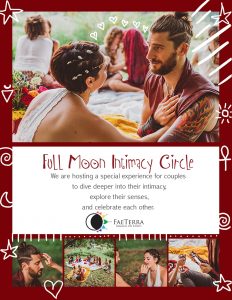 MORE DETAILS…..
DATE:
Our first circle is
Friday, August 16th & we plan to host this event every Full Moon time.
Please Bring:
* Cushions & Pillows to make a Nest
* Fabrics to Adorn your Space
* Altar Objects that are special to you and your partner
* Items to adorn each other with, & use for sensation play
(such as, rose petals, honey, blind folds, coconut oil, gem stones, silk, fur, velvet )
* Items to feed each other
(berries, chocolate, wine, whipped cream… whatever you two love!)
We will provide food and ritual items too!
So bring whats special to you, so you can customize your experience.
When you arrive, you will be asked to set up your nest and your altar.
Exercises may include
– Eye Gazing
– Heart Holding
– Words of Affirmation
– Massage
– Psychic transmissions
– Experimental Kissing
– Feeding Each other
– Sensation Play
– Breath Play
– Energy Cycling (Yab Yum and the Microcosmic Orbit)
– And other fun and creative forms of connecting with each other
No sex is involved. This is a sensual space.
We will be fully clothed,
however you are welcome to wear whatever makes you feel YUMMY!
We want you to embrace your SEXY, Radical self.
* This practice will open your heart.
* It will remind you of how grateful you are for each other.
* Your depth of love will GROW.
Note:
This is an invite only circle for our friends in committed relationships.
You are welcome to invite like minded couples.
Please come on time and prepare to stay until the end of ceremony.
~~<3
Cost:
Our first Intimacy Circle is free.
Right now we are experimenting…
Charging may make it easier for everyone,
because we'll buy all the food and ritual items for ceremony…
If that's the case, we'll find out after our first circle!
Then we'll ask for donations to cover our costs.
We're excited to connect more deeply with you.
WE LOVE YOU!
~~☾
Finally!
Address and Directions:
Welcome to FaeTerra!
Our Temple sits upon a mystical mountain in the farm town of Kula.
Find your way to Kula Lodge.
We're a block away.
Our closest mailbox is 15243 Haleakala Hwy, Kula –
You'll turn into the road that has 4 mailboxes and signs that say:
"Private Residences" and "Please Stay off the Grass." …
…
When you see the fork in the road, stay to your left.
Soon, you will find yourself at the gate.
Drive on through!
There are three homes on our property.
Go to the far right- and you will see our Temple perched amongst the trees.
It's a brown wood color. 
Park your car in the gulch BEFORE our house. It's a jungle in there!
The gulch will be on your left.
Drive in as deep as you can. If we stack ourselves in there- we can all fit!!
Please don't park near our tent, because we'll be using that space for ritual.
Our house has a stone address sign, 15233.
(That's technically our address.)
Once you are parked… walk past our tent, climb the stairs by our fire pit, and you are here!
Welcome home!!!
Our Temple awaits you!