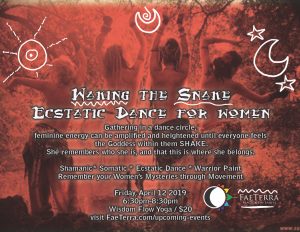 "Gathering in a Dance Circle,
feminine energy can be amplified and heightened
until everyone feels the Goddess within them SHAKE.
She remembers who she is, and that this is where she belongs."
~★
Welcome Wild Sisters!
This is a safe space to Un~TAME ourselves.
Our evening includes Ceremony, Guided Embodiment, and Ecstatic Dance.
~★
To create a deep container,
We'll begin with sharing ourselves.
We will pull from our oracle deck and
use the card as inspiration for our movement.
We will then connect with the Snake within ourselves,
and surrender to the inspiration to RE-WILD ourselves.
The Snake represents Transformation, Embodiment, Sensuality and Kundalini Rising.
Once we are anchored,
your dance is guided by YOU!
All expression is welcome.
You are welcome to bring objects for the altar.
I'll have Warrior Paint for you to adorn your PRIMAL self.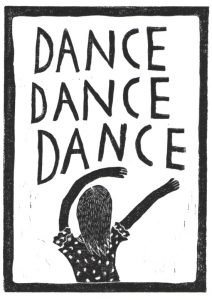 Who: Wild Women
Where: Wisdom Flow Yoga
When: April 12th
Time: 6:30-8:30
Cost: $20