A WITCHES WRITING CIRCLE seems so obvious, I can't believe I haven't thought of it before!
For Witches, writing is our second nature.
We have ample amounts of shakti energy that inspires our creativity.
And of course, we love CIRCLE.
Sometimes life keeps us from writing though!
Often the mundane gets us down, and we forget our magick.
This circle is meant to hold us accountable to EXPRESS ourselves.
Below are beautifully well-written explanations of us, The MAGICKAL ones.
☽♀☾∞ ❀ ∞♀☾❀☽♀☾∞ ❀ ∞♀☾❀☽♀☾∞ ❀ ∞☽♀☾∞ ❀ ∞♀☾❀☽♀☾∞ ❀
WITCH:
A woman who is aligned with her ancient nature. A healer. A wise Woman.
A Co-Creatrix with the Universe and a believer in the magical- sacred divinity of herself and all beings.
An autonomous woman who aligns with the cycles, seasons, and the power of the earth.
She prays through ritual and embodied communion. Her body is her mother.
The moon speaks to her and the trees speak to her. The animals speak to her and the spirits speak to her.
The Goddess lives within her. Her power is Love, as she is one with nature and all it's creatures.
She was once hunted for her powers but at the time of the Earth's Greatest Need, Now she Rises!
~ DO IT GIRL
"Many women remember being natural priestesses as children. They describe spontaneous acts of worship and celebration. Moments of passionate communion with a tree, naked dances in the rain, whispered conversations with angels, secret acts of magic, innocent songs of praise and heartfelt prayers. These are natural forms of spiritual communion. "
"We all start out knowing magic. We are born with whirlwinds, forest fires, and comets inside us. We are born able to sing to birds and read the clouds and see our destiny in grains of sand. But then we get the magic educated right out of our souls. We get it churched out, spanked out, washed out, and combed out. We get put on the straight and narrow and told to be responsible. Told to act our age. Told to grow up, for God's sake. And you know why we were told that? Because the people doing the telling were afraid of our wildness and youth, and because the magic we knew made them ashamed and sad of what they'd allowed to wither in themselves." ~ Robert McCammon
❀❀❀❀❀❀❀❀❀❀❀❀❀❀❀❀❀❀❀❀❀❀❀❀❀❀❀❀❀❀❀❀❀❀❀❀❀❀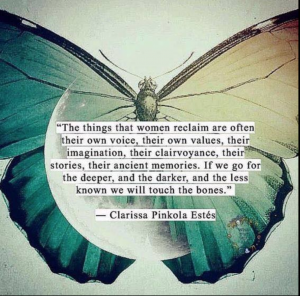 This circle lasts 4 weeks, one moon cycle.
We begin near the Full Moon and end near the Full Moon.
Full moons are full of energy! And they invite us to be ALL of ourselves.
Writing sessions begin with ceremony, We'll pull cards and share ourselves.
We'll spend an hour writing. Then an hour sharing.
What you write about during circle time, is up to you!
EVERYTHING is welcome.
Especially topics that have to do with :
Sex, Nature, the Mystical, Emotions, Birth, Death, Cycles, Past Lives, Sacred Places, Spiritual Powers, Spirit Animals, the Burning Times, Owning our Body, our Power, our Voice, ….
You are welcome to read writings you've written at home, in circle too!
Check out my blog!  https://faeterra.com/blog
to read some of my witchy writings 🙂
Check out my page ART WITCH: To learn more about my art Witchy-ness
We meet in person for 2 and a half hours.
The side effect of a COVEN is that we go deep, and create the kind of intimacy that makes us closer friends.
TIME:
DATES:
Price: $44
(That's $11 a circle. Sacred numbers feel witchy to me!)